LookFar Labs4 January 2018
2017 in Southern Startups: Major Deals & Memorable Moments
2017 was a rollercoaster of a year. Natural disasters affected seemingly every part of the world last year, and Hurricanes Harvey and Irma hit particularly close to home, wreaking havoc on the Southern states of Texas and Florida.
The year in tech was similarly tumultuous. Our best efforts to fight to save Net Neutrality failed and more than 143 million Americans were left vulnerable in the wake of the Equifax security breach. #MeToo became the hashtag that grabbed back, as sexual harassment claims surfaced unrelentingly in Silicon Valley, Hollywood and everywhere in between.
But 2017 wasn't all bad news. Cryptocurrency became such a buzzworthy topic that even our older relatives were talking about it at the holiday dinner table. And while the jury is still out on whether Bitcoin is the Myspace of the cryptocurrency world, there is plenty of investment opportunity to go around in the tech world.
Southern startups brought in more than $4 billion in venture capital last year, and there were some pretty impressive acquisitions and investments across the South throughout 2017. But don't take our word for it, the news speaks for itself:
Notable in #NOLATech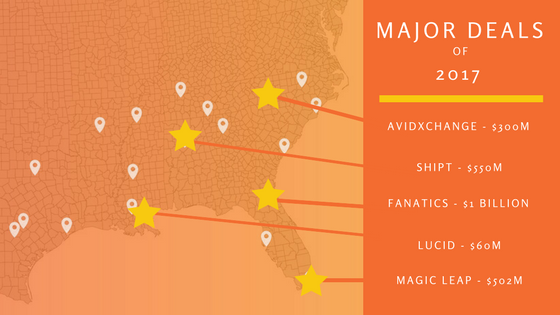 Major Deals
AvidXChange (Charlotte, NC) – $300M
CallRail (Atlanta, GA) – $75M
Decisely (Alpharetta, GA) – $60M
Fanatics (Jacksonville, FL) – $1B
Gather (Atlanta, GA) – $55M
Hero K12 (Miami Lakes, FL) – $150M
HighRadius (Houston, TX) – $50M
LendingPoint (Atlanta, GA) – $500M credit facility
Lucid (New Orleans, LA) – $60M
M2Gen (Tampa, FL) – $75M
Magic Leap (Miami, FL) – $502M
Proterra (Greeneville, SC) – $55M
QASymphony (Atlanta, GA) – $40M
RowdMap (Louisville, KY) – $70M acquisition
Rubicon Global (Atlanta, GA) – $50M
Shipt (Birmingham, AL) – $550M acquisition by Target
The Zebra (Austin, TX) – $40M
The State of Southern Startup Investing
Across the region, a number of investment firms closed fundraising rounds, with plans to pump sizable amounts of cash into Southern startups.
In Atlanta, TTV Capital closed their TTV Fund IV at $93 million in March, followed by a $203 million Fund III raised by Fulcrum Equity Partners, which focuses on investing in healthcare and technology.
New Southern funds focused on investing in early stage startups also launched this year. In April, Charleston-based Good Growth Capital announced plans to raise $20 million to invest in Southern tech companies, while the Nashville Capital Network closed on $34 million for its new fund.
The year came to a close with huge funding news, as Miami-based firm TheVentureCity launched their $100 million global fund for tech startups in November and Charlotte-based growth equity firm Frontier Capital announced the close of its significantly oversubscribed $700 million Frontier Fund V in December.
LookFar's Memorable Moments of 2017
New Orleans Entrepreneur Week (NOEW) is always one of the highlights of our year, and NOEW 2017 was particularly memorable. Leading up to the event, we worked with Idea Village to redesign the NOEW website and implement new 3rd party integrations, including software built by Solomon Group, that streamlined their event planning and execution process.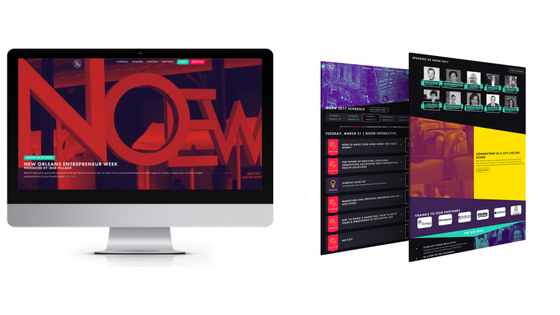 During NOEW, we were actively involved, sponsoring a stage of startup speakers, hosting an Open Mic Night where founders shared their stories, and curating an exhibit dedicated to the Southern startup ecosystem. And, of course, we couldn't be prouder of our partner, Crystal McDonald of Acrew, who won $100,000 Coulter IdeaPitch.
Another NOEW highlight was the City as a Startup (CaaS) summit. Founded by Venture for America, this conference within a conference explored ideas of how the city's entrepreneurial community can innovate and drive inclusive growth while still honoring the people of New Orleans, past and present.
Early last year we also had the opportunity to work with former Venture for America fellow Sean Jackson. His company, Sift, specializes in increasing employee engagement.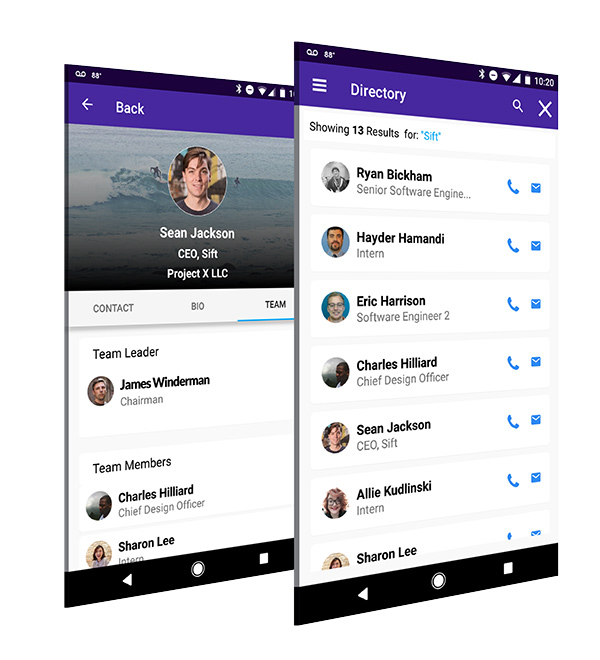 We worked with Sift to build native iOS and Android apps to complement their existing web application. We also partnered with them to improve the company's internal agile processes through close collaboration in JIRA.
In October, we hosted the 3rd annual Ada Lovelace Awards, which were bigger and better than ever. This year, we expanded the awards to honor nearly 100 women in technology from across 6 Gulf South States.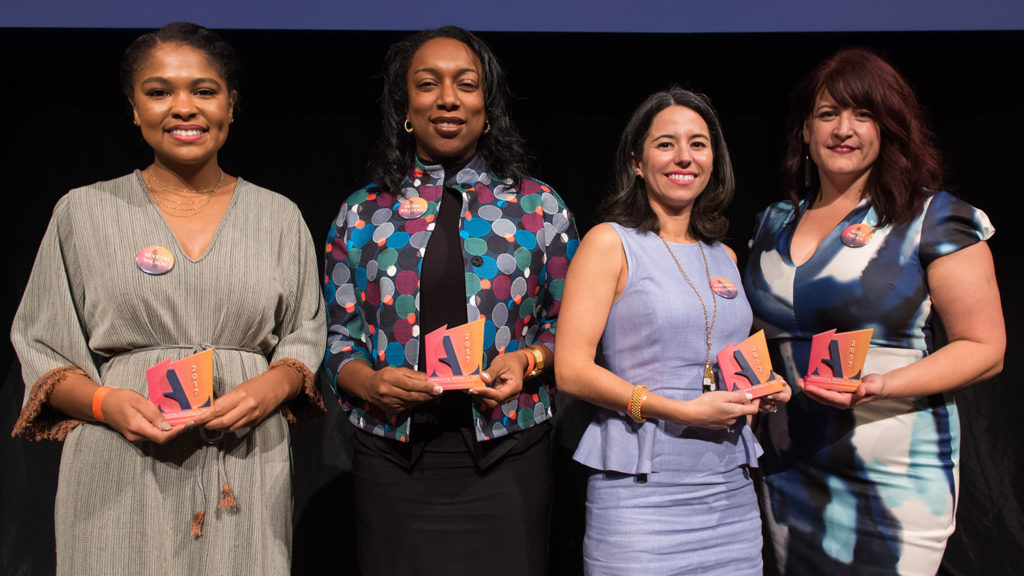 At an awards show held at Le Petit Theatre in the French Quarter, we presented awards to 4 deserving winners: Kesha Williams (Computer Engineer), Sevetri Wilson (Tech Founder), Mariana Williamson (STEM Educator), and Adele Tiblier (Digital Marketer).
Finally, in December, we capped the year off by creating a mobile app for LUNA Fête, the annual holiday festival of light, art, and technology in New Orleans. As the festival has expanded over the past few years, they found themselves wanting a better way to engage with and deliver information to their visitors.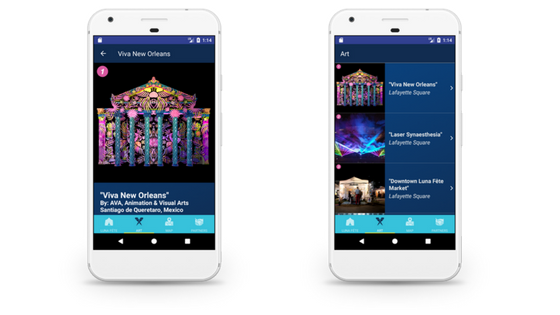 By using React Native, we were able to quickly deliver an app (available in the App Store and on Google Play), which allowed users to view a map of the exhibits and track which ones they had viewed, make a donation to Arts Council New Orleans, and learn more about the event sponsors.
Looking Forward to What 2018 Brings!
We're looking forward to what this new year brings for the Southern startup community. Whatever happens, we'll be sure to cover it in our Southern Startup Report, a free curated newsletter covering the latest tech startup happenings in the American Southeast.
From recent funding rounds, events and accelerator deadlines, to tips from Southern startup founders, we scour the headlines to deliver it to you in a digestible format, every two weeks.
Sign up to receive the Southern Startup Report.
Written by