LookFar Ventures17 March 2016
How to Tailor Your Pitch Deck: Changes to Make when Pitching to Different Audiences
Rolling with the Pitches
There are pitch decks – and then there are damn good pitch decks.
Let's go back to school and start with the basics. What is a pitch deck in the first place? It's a brief presentation used to provide your audience with a quick snapshot of your overall business plan.
That's it.
Now…how can you make it good?
I've been there. Just the idea of creating a pitch deck can be daunting; particularly for new treps that wear a high stack of hats that might include CEO, Director of Marketing and Sales, HR Manager, Developer, Social Media Manger… just to name a few. In the beginning, we founders have to do everything. It's what we signed up for. We're about to go ahead and add bad ass pitch deck creator to your stack of hats. Let's dive in.
Know Your Audience
Deciding WHAT to include and HOW to pitch it really depends on WHO your audience is. Your pitch to an investor can and should differ from your pitch to a prospective customer, a panel of judges at a competition, partner, or even co-founder. The tough part is figuring out how to provide consistent messaging that's relevant and interesting to varying audiences with equally varying value propositions.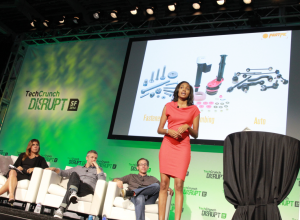 Jewel Burks – CEO of Partpic and an incredible presenter – working a TechCrunch crowd
While starting this process blind might have you feeling a little woozy, there's good news. These days there are basic formulas that you can follow to help you get going. For the purposes of this blog, we'll focus on two very different audiences: investors and prospective customers.
Building an Investor Deck
Your investor-oriented pitch deck – and your accompanying presentation – needs to be clear and concise. In your messaging, it's important that you communicate your company's vision, the huge problem that exists, how your product or service solves it, and why your team (and only YOUR team) is the best-equipped motley crew of techies and crazies to fix it. You need to keep in mind that investors get infinite numbers of pitch decks pushed to their inboxes daily. Never mind the noise, just make sure that your deck stands out by sticking to a relatively slimmed-down template:
Introduction – A one-liner communicating exactly what you do (with a little pizzazz) works well.
Market – Define the market size and just how ridiculously huge it is.
Problem – Clearly state the problem and why it should matter to the investor.
Solution – Don't skimp. Communicate why your product or service is perfect to fix the problem.
Product – A well thought-out product or service goes a long way. Tell them why it's so amazing!
Traction – Have you made some progress?! GREAT – tell them about it!! Don't be shy.
Revenue Model – Investors care about return. Communicate how you'll make them filthy rich.
Investment Opportunity – Tell them what you need and why. Then make an ask.
Team – Make sure everyone on this slide is a real winner and has the chops to execute.
Contact – Include the basics: email address, phone number, social handles, and AngelList.
Building a Sales Deck
Sales pitch decks differ slightly from Investor pitch decks. There is a certain finesse, skill or art form associated with selling. People want to see you. They want to hear a story, and get a clear sense of how whatever story you are telling can add value to the bottom line of their business.
Remember, investors appreciate that you want to solve the world's problems with your product or service…sort of. Really, those cats want to make money. Prospective customers are different. They want to make money and cut costs, and they want you to tell them how you'll help them do it. Below are a few components you should keep in mind:
Introduction – Your opening slide needs to be visually beautiful. Blow them away with a strong opening line.
Product – Open up early with what you do – you don't want folks waiting. You could lose them.
Value Proposition – Make this count. Define exactly what's in it for them.
Solution – Don't skimp. Make the benefits irresistible.
Testimonials – Have happy customers? Flaunt it! It increases trust and credibility.
The Ask – By all means, ask for their business! A closed mouth won't get fed!
Contact – Include basics: your website, email address, phone number and social handles.
Key Take-Aways
#1 – Know your audience. Your deck will differ depending on who you are pitching to. Your awareness in this will make all the difference.
#2 – People are just people. In many ways, we're all the same. No matter who you are pitching to, remember the following:
Be clear and concise
Keep your deck to no more than 10-15 slides
Limit each slide to one main point with complimentary visuals
Make a connection with your audience
Ask for what you want
So there you have it! My hope is that you find something in this post that's useful. Now, go knock some socks off.
Crystal McDonald is the founder of GoToInterview, now rebranded as ACrew and, we're proud to say, a LookFar partner startup. A seasoned pitch meister, Crystal carried the day at Steve Case's Rise of the Rest competition, one of New Orleans' biggest 2015 startup events.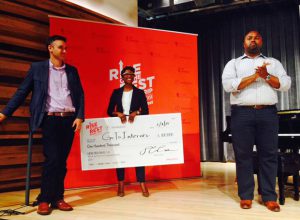 Want to pitch like a pro? Try applying Crystal's tips and make a kick-ass pitch deck using nothing but PowerPoint.
Written by