LookFar Ventures8 December 2016
2016 in Southern Startups: Stories, Rounds, and What Comes Next
We'll always remember 2016 as the year of Pokemon Go, the Cubs World Series, and the wackiest ever presidential election. But how did the Southern startup community fare in 2016? We've put together a quick recap of the highs and lows from the past year. 
Investment
| | | |
| --- | --- | --- |
| 999 funding deals | $13.5 billion in capital invested | 113 acquisitions over $50M |
Top States
Investment $$ per capita: Texas

*Data via Crunchbase

Startup jobs per capita: Georgia

*Data via AngelList

Deals per capita: Georgia

*Data via Crunchbase
New Unicorn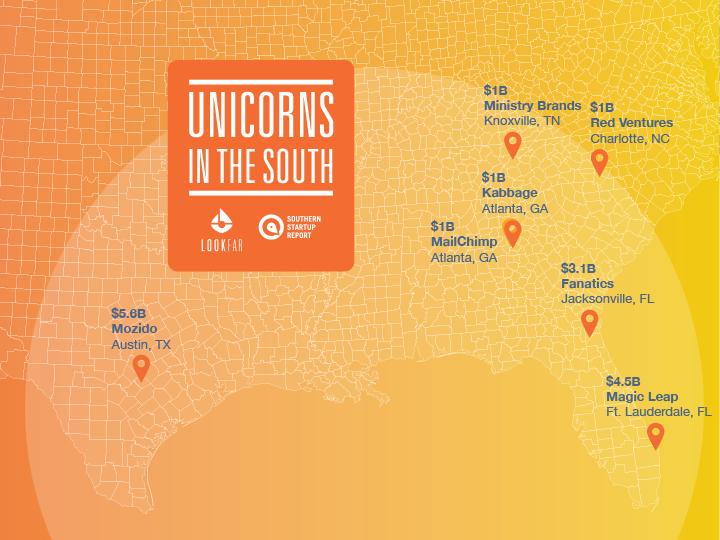 The South's herd of unicorns has now grown to 7. Knoxville-based Ministry Brands retained Bank of America Corp. to explore a sale of the company at a projected $1.5B valuation. Ministry Brands is backed by private equity firms Genstar Capital and Providence Equity Partners and provides SaaS tools for churches and faith-based organizations.
Major Deals
Apellis (Louisville, KY) – $47M
Finova (West Palm Beach, FL) – $52.5M
Magic Leap (Ft. Lauderdale, FL) – $793M
NextGear Solutions (Oxford, MS) – $11M
Pindrop (Atlanta, GA) – $80.8M
PrecisionHawk (Raleigh, NC) – $18M
Shipt (Birmingham, AL) – $20M
Notable in #NOLATech
| | | |
| --- | --- | --- |
| Local star Lucid continues to grow with expanded service offerings that make market research effective and easy. They partnered with NOLA Media Group to provide poll tracking for the 2016 Presidential Election. | Construction lien management software company zlien raised $6.3M in 2016. The eight year old company has touched more than 1.1 million construction projects and has more than doubled their staff – growing from 34 to 66 employees. | Social innovation accelerator Propeller received two major grants totaling more than $650,000. Executive Director Andrea Chen says grant money will be used to help underserved populations benefit from entrepreneurship. |
In the News
MAY: Inaugural The Bridge: Atlanta Program Kicks Off
APR: Collision Conference Brings 4,000+ Entrepreneurs to New Orleans
JUN: North Carolina's "Connections to Capital" Program Celebrates a Banner First Year
JUL: Chattanooga's Dynamo Accelerator Welcomes Inaugural Cohort 
AUG: Walmart Acquires Amazon Competitor Jet for $3.3B
OCT: Google Puts Brakes on Utility Program – No Fiber for San Antonio, Huntsville
NOV: InvestTN.co Program Shows Only 2.6% Return On State-Funded Angel Investments
What to Watch in 2017
BIRMINGHAM

Gary V headlined Birmingham's new tech conference SlossTech in 2016, and shortly after Shipt announced a $20M raise to challenge Instacart in the South. This small city is creating magic with cohesion and collaboration stemming from UAB and Innovation Depot.

EDUCATION EMPHASIS

LookFar will launch a practical coding program for graduating seniors at Loyola University. Entergy donated $1M to support technology training. Both Alabama and Kentucky have received major grants to enhance their state's tech skills. Workforce development is becoming a top issue for startup growth.

IPO FRENZY

Expect to see more tech IPOs after a slow 2016, meaning more money for some extremely large Southern companies and their stakeholders. Florida alone has 11 companies currently in the IPO pipeline, including Unicorn merch vendor Fanatics.
---
2016 was a startup rollercoaster for the South, but by and large marked a year of progress for existing hubs, and the emergence of new ones in Birmingham and Chattanooga.
Startups have flourished and died; raised rounds and merged, but have proven beyond a shadow of doubt that even overlooked Southern cities can provide solid foundations for high-growth companies to grow and thrive from fledging ideas into billion-dollar dynamos.
It's been our honor keep you up to date with this incredible corner of the US in the Southern Startup Report. Watching these storylines appear and grow has been one of the most exciting parts of our work here at LookFar, and we can't wait to bring you the best of the Southeast in 2017! If you're interested in receiving the best Southern startup news in your inbox twice a month, subscribe to LookFar's Southern Startup Report.
Written by