LookFar Ventures27 August 2015
Why New Orleans?
Staying Home as a Venture For America Fellow
"Wow, New Orleans must be quite the city!"
I heard it often from other Venture for America Fellows over the five weeks of extensive training camp as I explained my destination for my two year fellowship. Of the one hundred and twenty-two 2015 Fellows, I am the only one to return to the city of not only my Alma Mater, but—as a Northshore native—my childhood.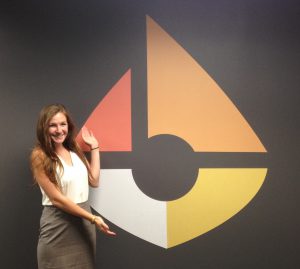 Venture for America is a fellowship program placing recent college graduates in one of fifteen cities around the country for the purpose of revitalization through entrepreneurship. While I admire my classmates for their tenacity in embarking on adventures in new cities, that path wasn't for me.
I chose instead to join the seven other 2015 New Orleans Fellowsby returning to the rising New Orleans startup scene: the Silicon Bayou.
Throughout my college career at Loyola New Orleans, I learned the strength of this city in transition and how truly fortunate I am to be playing a role in it as a student and now recent grad.
Ten years after Katrina the "rebirth" movement has created a stronger, more resilient city. I'm not the only one feeling optimistic—in 2014 New Orleans ranked top 10 in GOOD Magazine's "50 Most Inspiring Cities in the World" (GOOD Magazine). And has taken high honors on other lists, including USA Today's "Top Cities for Young Artists" and Forbes' 2011 article "America's Biggest Brain Magnets".
Lists only matter so much, but they hint at New Orleans' habit of keeping her arms open for all, with a special place for the passionate and the driven. She rewards natives and new "New Orleanians" alike with a plethora of opportunities.
The city eagerly accepts all personalities, and the entrepreneurs who call it home are no different. Idea Village head Tim Williamson put it well: "New Orleans has developed an authentic and collaborative entrepreneurial ecosystem, led by people who care deeply about the future of the city."
Networking and relationship building takes a more comfortable form in New Orleans. Events such as New Orleans Entrepreneur Week (NOEW), NOLA Tech Week, Startup Weekend, and many more afford anyone the opportunity to meet future connections, cofounders, or employers. Moreover, these events are solidifying New Orleans as a hub of entrepreneurship, with NOEW drawing in over 10,500 visitors in 2015.
The difference these changes have made is massive: newcomers are enthusiastically welcomed, and new ideas readily supported. NOLA's culture instills confidence in all and creates an environment suited for both personal and professional development.
Nowhere is this more evident than in the sheer number of startups in the city. New Orleans' entrepreneurship rate is 56% above the national average.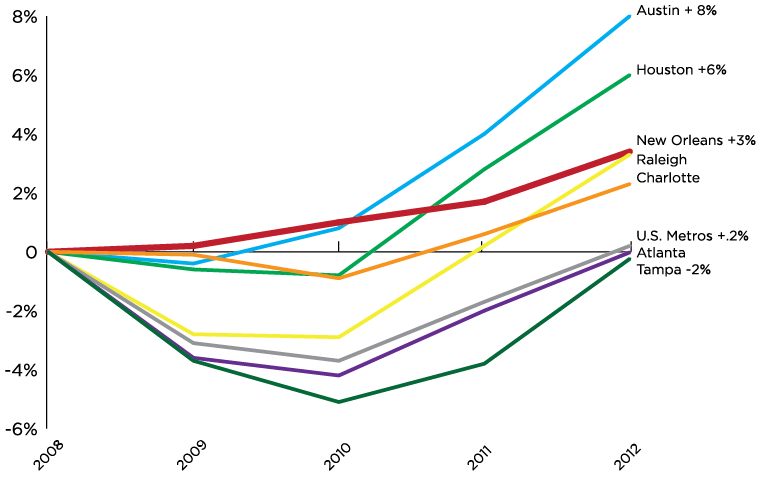 Many of these young companies are boosted by growth in venture capital funding, which doubled between 2010 and 2014. Others seek funding from numerous pitch competitions held throughout the year such as Big Idea, Water Challenge, and PitchNOLA.
But I don't want to minimize the need for further progress. Despite the strides our own burgeoning tech scene has made, it's still dwarfed by the success of other Southern entrepreneurial hubs. Sources such as the 2015 Kauffman report show a clear disparity between New Orleans and larger regional startup scenes. Tech talent and faith in the industry need to compete with the likes of Saint Louis, San Antonio, Raleigh, and Nashville. Austin, TX is a wonderful example of a southern city with tremendous VC funding and startup growth.
Recent changes have also threatened incentives that have encouraged the surge of growth in New Orleans. As pointed out by New Orleans's own Mark Graffagnini, legislative moves have affected the Angel Investment tax credits that have offered crucial, powerful incentives to local investors.
Our neighbors have done some incredible things, and there's no avoiding the fact that New Orleans lags behind them in some regards. But they also demonstrate what once-tiny tech scenes can become. New capital, new talent, and new ideas have contributed to amazing things in this city. These are trends that need to be encouraged if New Orleans is to continue its already impressive progress.
Local VFA Fellows and other young entrepreneurs are lucky enough to be more than spectators in this ecosystem. We have the chance to drive this process firsthand. Despite the challenges ahead, I don't think I'm alone in feeling optimistic about what the next few years will bring.
And if you're new to the city, welcome home.

We are so happy to have you.
Written by